Monday 18th Feb 2019
Posted in attractions, culture, events, families, holiday ideas, holiday offers, natural Scotland, photography, self-catering, spring, walks, wildlife
Scotland bursts into life as Spring approaches & it is a glorious time to travel
As the days get longer, landscapes come alive with new displays of flora and fauna and its a great time to explore the best Scotland has to offer:
Scottish Flowers in Spring
Spring is a great time to see swathes of Scottish Flowers.  Wilderness guide and flora expert Jonathan Willet shares his love and knowledge of the most iconic spring flowers in Scotland.
Wilderness Scotland's, Scottish Flowers to Spot in Spring.
Blooming Scotland – Scotland's Gardens Scheme
Founded in 1931, Scotland's Gardens Scheme now features almost 500 gardens ranging from stately homes to small village cottages; allotments to therapeutic and physic gardens; from formal gardens to wildlife sanctuaries.  Raising money for 225+ charities.
Here are a few spring open garden highlights:
Fife Spring Garden Trail – Six wonderful spring gardens to visit
The Fife Spring Trail comprises six unique gardens and one plant fair, at Cambo Gardens. Visitors can enjoy a wide variety of gardens, with special collections of endangered species from the Southern Hemipshere (Cedar Cottage) or a tulip adorned walled garden and bluebell covered 'Millennium Wood' (Teasses). It's a wonderful opportunity to explore a plantsman's garden undergoing gradual re-development (Rosemount Cottage) and spring woodland with terraced walled garden (Kirklands).
Winton Castle, Pancaitlan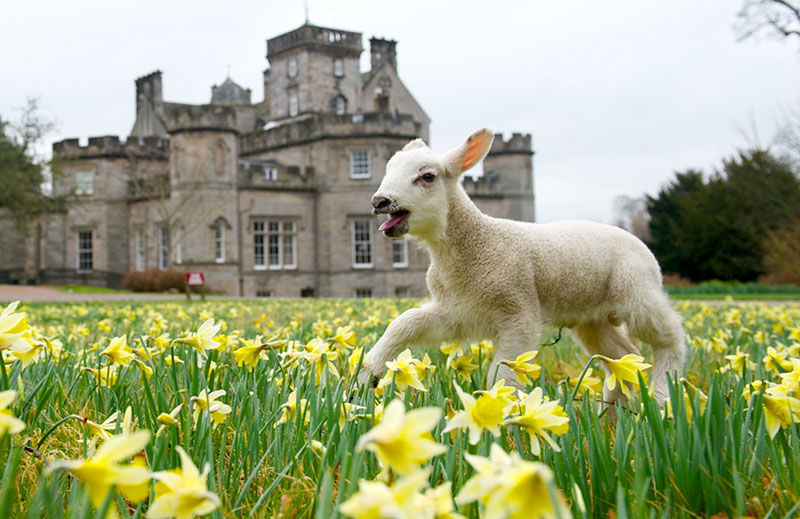 The gardens continue to develop and improve. In addition to the natural areas around Sir David's Loch and the Dell,
extensive mixed borders are taking shape for the terraces and walled garden. In spring a glorious covering of daffodils makes way for cherry and apple blossoms. Enjoy an informative tour of this historic house and walk off delicious lunches and home baking around the estate.
A visit to Winton Castle is a wonderful family day out
Visit Scotland's Garden Scheme for more information and a list of gardens open across Scotland this year.
Explore our Local Tips this Spring
Ardblair Trail and Bluebell Wood – from Invermay
Near the Blairgowrie Golf Courses you'll find the Ardblair Trail and Bluebell Wood, which offers lovely views of the countryside. It is a circular walk that loops through Darroch Wood (with its bluebells in spring), past the White Loch and back to Blairgowrie.
Discover Enchanting Garden – from Treshnish & Haunn Cottages
Lip na Cloiche garden will surprise and enchant. A plantswoman extraordinaire, Lucy Mackenzie has grown this garden – from a bare hillside into an imaginatively shaped and interestingly planted haven.
Inchailloch Island – from Loch Lomond Waterfront Lodges
The name Inchcailloch means "Isle of the old woman" or "Isle of the Cowled Woman" in the Scottish Gaelic. Saint Kentigerna came to Scotland from Ireland to preach and spread Christianity and the island is thought to be named after her. Ruined church and MacGregor burial ground with woodland walks.
Find out more about Loved by Locals Tips